A 50th birthday is big for one main reason: it's halfway through life, technically, and a person is now at the top of the hill.
For some, this can be a depressing fact to face. For others, if they have overcome difficult obstacles or circumstances, it's something to be proud of. But one thing is for sure: it is definitely a number to celebrate!
For that friend or family member, or hey even yourself, who is celebrating turning 50 years old, special happy birthday wishes are due.
The list below contains a variety of 50th birthday wishes for any person. Whether they prefer humorous cards or sentimental ones, each one will bring a smile to the face.
50th Birthday Quotes
1. Heartiest congratulations on achieving this milestone! Wishing you many more wonderful years of life ahead! Happy 50th Birthday!
2. We are beyond delighted to celebrate your happiest day together. Hope you get to complete another half-century of life! Happy 50th Birthday!
3. Cheers to all the laughter, joys, and positive vibes that you are sharing with others so far! Happy 50th birthday!
4. Happy birthday to one of the coolest people I know in the world. Wishing you an incredible life ahead! Have the most delightful birthday celebrations!
5. Watching you turn 50 has given me a new perspective of this particular stage of life. May you continue to enjoy your life with the same enthusiasm. Happy Birthday!
6. You have taught me that turning 50 can be full of fun when you live your life passionately. Hope you enjoy this new journey a lot! Happiest 50th Birthday!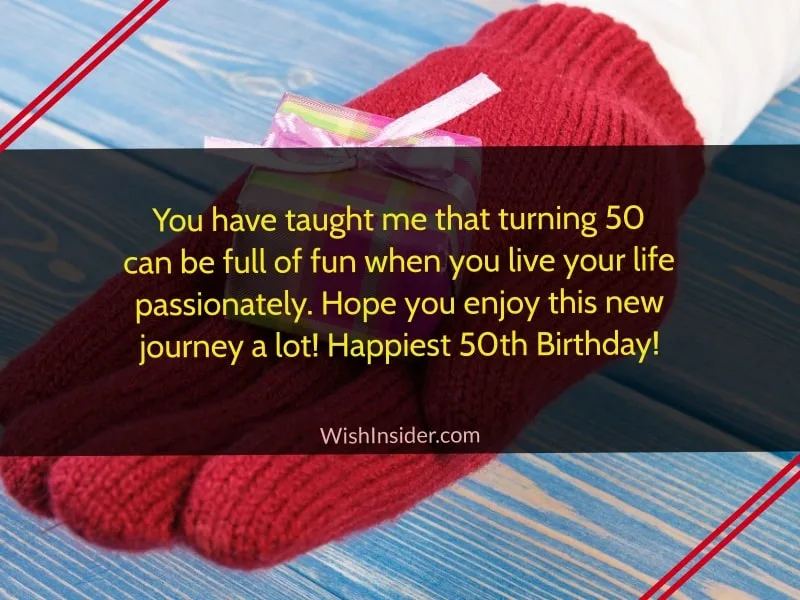 7. I hope new adventures and lots of happiness await you in the next phase of life. Happy 50th Birthday and have a divine life-journey ahead!
8. You have so much to be grateful for everything that you have received in these past 50 years of your lovely life. Congratulations and have a blessed 50th birthday!
9. You have proved that age is definitely just a number. Your spirit is inspiring. Wishing you a blissful 50th birthday!
10. You are absolutely aging with grace and getting classier with each passing year. Happy 50th birthday and have a joyous day!
11. Today marks the 50 magnificent years of your life that have been truly remarkable. Congratulations on attaining the golden jubilee.
12. Wishing you many more years of prosperity and blessings in every endeavor! Happiest birthday and have a blithe celebration!
13. Happy 50th birthday to one of the amazing people whom I have ever surrounded by! I can't wait to celebrate your milestone with a full blast!
14. Let's celebrate this day and remember all the thrilling adventures and surprises you have received in the form of absolute blessings. Have a fantastic day!
15. Happy 50th birthday to a wonderful human being who has shown me that life can be beautiful if you learn to give to others and share kindness. Wishing you many more years of goodness!
16. Warmest congratulations on turning 50 with so much composure. Hoping for you many more years like this but with more contentment and health!
17. I can't believe you just turned 50 today as you don't seem like an aged person at all. Wishing you more years of grace and serenity! Happy Birthday!
18. Congratulations on achieving the first phase of 50. Can't wait to see you living your next phase of 50 in an ultra-inspiring way with good health.
19. No matter how much older you get, you have always been eternally graceful, and you always will be for sure! Happy 50th birthday!
Recommended for You:
20. You have made me feel so proud of everything you have accomplished over the last 50 years of your life. You have made me believe that you can achieve anything if you really have the determination to get it. Wishing you many more years of success, health, and wealth!
21. I admire the way that how you have overcome every hurdle that came into your life during these past 50 years. Keep us motivated through your exciting way of living. Happy 50th birthday, you lovely being!
22. Turning 50 is a privilege. Embrace it, live it, and enjoy it gratefully, as not everyone has the luxury to achieve this golden jubilee with so many blessings around them. A very Happy Birthday!
23. 50 years of an incredible life! Some years of great blessings and some years of loss that you lived courageously. I can't be more grateful to have been getting to know you for years. May you be blessed with infinite joy! Happy 50th Birthday!
24. Let's celebrate 50 years of unlimited blessings, prosperity, and ecstasy. May your personality always be sparkled through your kind gestures! Wishing you another 50 spectacular years! Happy Birthday, you incredible human being!
25. You are still graceful, light-hearted, and marvelous at 50. May you always feel blessed, incredible, and bright. Hoping you will have a phenomenal day and life ahead! Happy 50th Birthday!