A 19th birthday is special for one main reason: it is the last year a person can say they are a teenager! Before officially entering one's 20s, the last year of being a teen should be celebrated.
You should use your birthday wishes to them to urge them to live up their last teenage year, yet at the same time recognize all they have accomplished so far and all they have to look forward to. It can be an overwhelming realization but it should really be fun and enjoyable.
Help do up your friend or child's big birthday and wish them the happiest of days with this list of the best ways to say "happy 19th birthday!"
Wishes for a Happy 19th Birthday
1. You have grown up to be such an amazing person and I am so happy for you. You always make me proud and I wish all the best things for you. Happy 19th!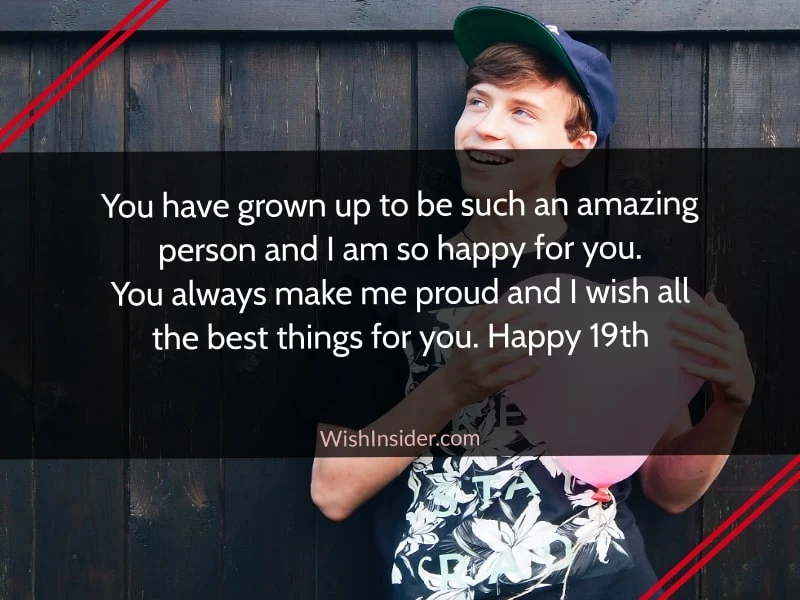 2. Wishing the best for you on your 19th. I hope that you achieve all your dreams and goals. Happy 19th birthday.
3. To have known you and grown up along with you has been an extremely fun ride. Today, I wish you a happy 19th birthday and many more birthdays ahead.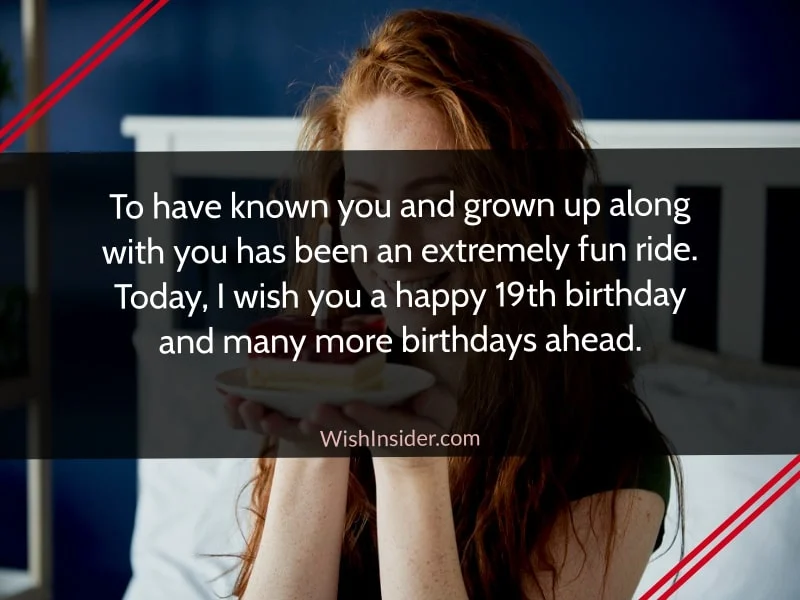 4. You have turned 19, wow! It is so crazy to see you all grown up and I am so proud of the person that you have become. Happy 19th!
5. I pray that this day brings you lots and lots of happiness, love, and joy and that you get to see all the best things in life. Happy 19th!
6. It is crazy how someone can mean so much to you. You have given my life meaning and purpose, and I am always thankful to you for that. Happy 19th!
7. As a child, you were so full of love for humanity and kindness for animals. On your 19th birthday, I can still see the same child in you, and I am so happy about that. Happy 19th!
8. I am so happy to see your strength and passion for getting things done. You always make me proud. Happy 19th!
9. Being compassionate and friendly is not easy all the time but the time I was lucky enough to spend with you, showed me the awesomeness you have stored in yourself. Happy 19th birthday.
10. You are the kind of person everyone aspires to be. I hope you can keep on motivating people to do better and live better. Happy 19th birthday.
11. The 19 years of your life that you have spent have been magical for everyone. We cannot wait to spend another 19 with you. Happy 19th birthday, dear one.
12. You are so full of life and that is what I love about you the most. Please stay the same, and happy 19th!
13. On your 19th birthday, I wish that you get to see all the wonders of the world and all the happiness that you deserve. Happy 19th!
14. I always wonder what I did to deserve a friend like you. I am so happy that we are friends and I hope we can continue to live like that. Happy 19th birthday, buddy!
15. Your life inspires me so much and every day, I hope to become at least a little like you. I hope that you can keep on inspiring people. Happy 19th!
16. This is your day, enjoy it to your fullest, take control of it, and don't let anything ruin it. It comes once a year so, make the best out of it. Happy 19th!
Recommended for You:
17. You can have all the fun on your birthday because no one is stopping you. Happy 19th!
18. Birthdays are to be celebrated and enjoyed. I hope that you won't let difficult times destroy your happy day. Happy 19th!
19. You have spent 19 years of your life making people happy, I hope that you can continue to do so. Sending lots of love your way and wishing you a happy 19th!
20. Knowing you have been amazing, and I want you to know that I love you so much. Happy 19th!
Happy 19th! You're only a year away from true adulting. Brace yourself!
Welcome to 19, where you're too old for kids' stuff but not quite adulting yet. Enjoy!
Cheers to 19 years of awesomeness! Keep rocking that teenage spirit.
Nineteen candles, one for each amazing year. Blow 'em out and make a wish!
Time to celebrate the last year of your teens! Happy 19th birthday, you legend!
Hey there, birthday buddy! You're 19 and unstoppable. Enjoy your day!
19 looks good on you! Enjoy the perks of teenage freedom while you can.
Sending 19 high-fives your way. Keep being fabulous and happy birthday!
One more year to go, and you'll be adulting like a pro. Happy 19th, my friend!
Nineteen and thriving! Happy birthday to the coolest teen in town.
You're officially 19 and nailing it. Cheers to another year of awesomeness!
Happy birthday! At 19, you're old enough to know better, but still young enough to do it anyway.
It's your 19th trip around the sun! Keep shining bright and enjoy the ride.
Age is just a number, and today that number is 19. Party like the rockstar you are!
Celebrate your 19th year like there's no tomorrow. You deserve it, birthday superstar!
Nineteen candles to light up your day. Happy birthday and enjoy the glow!
You're only 19 once, so make it a year to remember. Happy birthday, champ!
Wishing you a 19th birthday filled with friends, laughter, and unforgettable memories.
Happy 19th to the most amazing person I know! Keep being your brilliant self.
Cheers to 19 years of making the world a better place. Let's celebrate, your birthday buddy!
Short Happy 19th Birthday Wishes
Celebrate 19 years of fabulous you.
Turn 19 with a heart full of dreams.
Make your 19th year unforgettable.
Happy 19th, let the adventure begin.
Cheers to 19 years of awesomeness.
Embrace 19 with love, laughter, and joy.
May 19 be your best year yet.
You shine at 19, happy birthday.
19 looks amazing on you.
Conquer the world at 19.