When someone passes away, we have to pay our respects and honor his memory, especially during his death anniversary. We must make sure they will never be forgotten and stand close to his grieving family who, during this awful day, are feeling unhappy and blue.
Stand by their relative's side and comfort them, reassuring them God welcomed the deceased's soul with open hands and that he can see all of us from Heaven, watching every step they take, guiding them. Express your condolences by standing by family and supporting them with everything.
If you are a person who lost someone you cared for and loved deeply, this is must be a challenging moment for you, but you need to be reminded that your lost ones will always remain in your heart. These death anniversary quotes will help you feel better in these hard times.
Powerful Quotes to Commemorate the Death Anniversary of a Loved One
Death anniversaries can be a time of reflection, grief, and love. These quotes can offer comfort and understanding during such moments:
1. They might be gone but their memory will never be forgotten. Such special people might leave our life but they live in our hearts forever. Their memories will always stay in our hearts, bittersweet, and forever.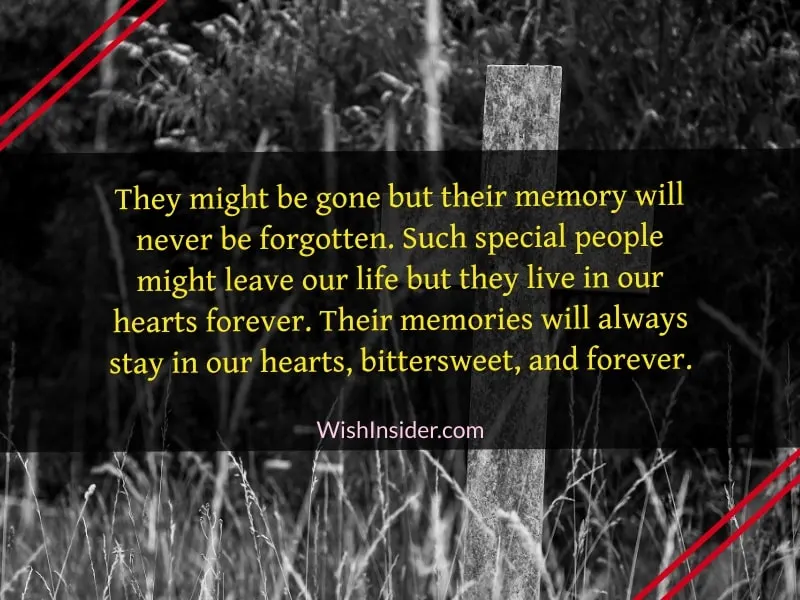 2. This day comes every year and a huge pang of memories hit me to remind me what I've lost. Even though I live with these memories every day but they get stronger and harsher on the anniversary of the day.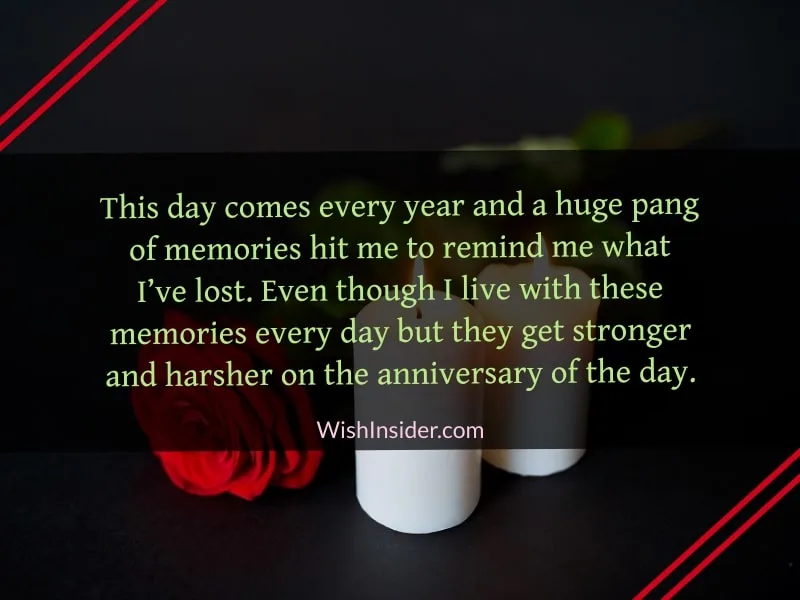 3. Another year has passed of me being here without you. There is not a single day when I haven't missed your presence and your warmth around me. Every day I am reminded of what I have lost and try to make my peace with it. You are missed.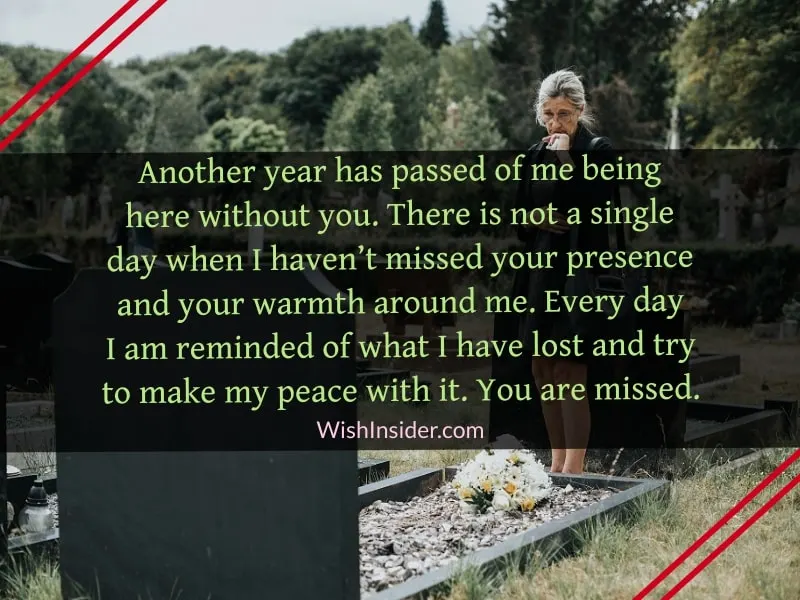 4. Your presence around me was the most beautiful thing in my life. Losing you has been horrible and I can't imagine spending any more of my days without yet I carry on because I know that's what you would've wanted. I miss you.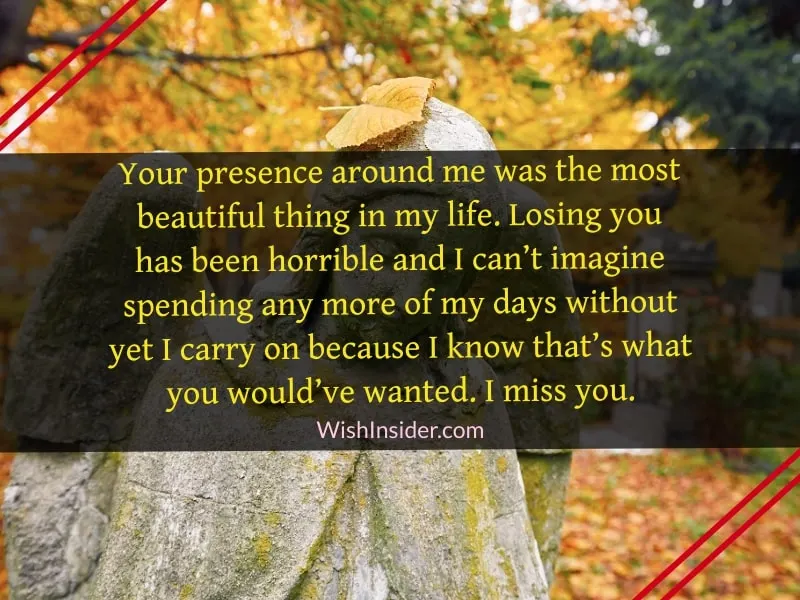 5. I don't believe them when they say that time heals all wounds. The wound I got after you left is still as bad as it was on that. It keeps reminding me of all that I had with you and I wish to God to give me some peace.
6. Another year has passed of you not being here with me. It has been extremely difficult without you and I miss you with every heartbeat. I wish to God that you are in a better place wherever you are. I miss you.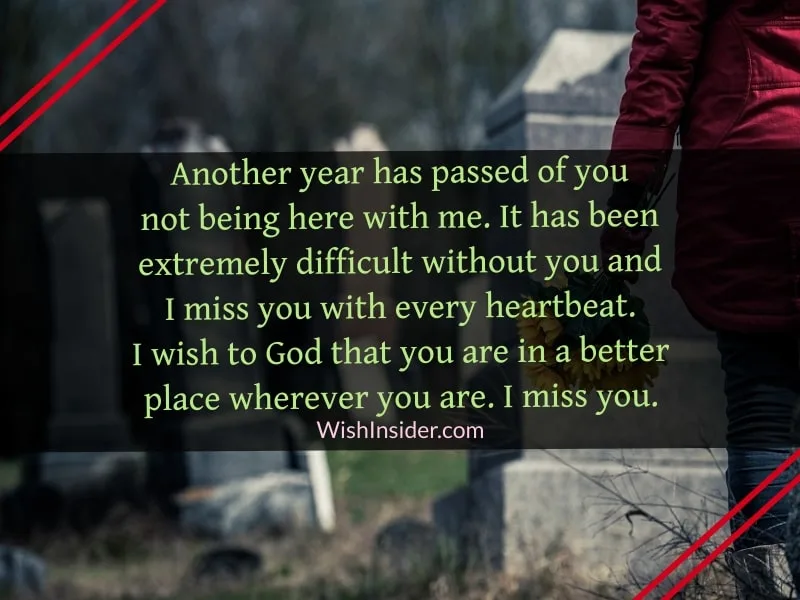 7. You were an exceptional human. Your role n my life was a crucial one and today on the anniversary of the day you left me I would like to thank you. I would like to thank you for all that you did for me. I miss you.
8. Today is the anniversary of you passing away. It is the day when I lost the most important thing ever. It is the day you left and took my heart with you. Your presence is dearly missed.
9. You were extremely special to me and no words will ever be able to explain what you meant to me. Losing you is the worst thing I ever had to face and I wish I can be with you again.
10. I have the most beautiful memories with you and whenever I remember that I won't be able to make any more with you, I am filled with dread and sadness. I just want you to know that I treasure each and every one of our memories.
11. As another year passes, I can't help but think of all the beautiful years had with you. I keep praying for more yet I know I won't get any. Your absence has made my heart sad and I can't seem to get over it. I miss you.
12. You were the best thing that ever happened to me. I try to find comfort in the thought that you are always beside me, grinning and laughing at all the silly things I am doing. I miss you and would do anything to get you back.
13. It is another year since you left us. The entire time period seemed longer than a year for my heart misses you too much. Each second without you seems to prolong and I can't help but miss you with every breath.
14. Even though you are gone I'd like to think that you are always here by my side like my guardian angel. Your memories help me in keeping you alive and each year instead of fading away they get even clearer and brighter.
15. It is the anniversary of the day you left me alone in this world. The only thing that brings me comforts the thought that you are in a better place now. I just wish and hope that I could be with you. Wherever you are for my heart misses you too much.
16. You were a beautiful human being. You helped lots of people throughout your life and none of it went to waste for even today, another year since you left there are still tons of people remembering you.
17. You are alive in our hearts, our minds, and our memories and we intend to treasure those forever for as long as we shall live. I'm not worried after that, for then we shall be reunited and together again.
18. Today is the anniversary of the day when you left me. I miss basking in the warmth of your presence. Your love, care, generosity, kindness, and beauty are still embedded in my brain and my heart and I miss every inch of you dearly.
Recommended for You:
19. As another year passes I want you to know that you may have lost the difficult battle with life but are a hero in my eyes and will never be anything else. I can't wait to be reunited with you. I hope you are doing good wherever you are. I miss you.
20. I know my love for you is stronger than anything for today marks another year of not having you here and my love keeps getting sharper and stronger. It would be an understatement to say that I miss you. I feel incomplete without you and I hope you are in a better place now.
Death Anniversary Quotes
Your absence has gone through me like thread through a needle. Everything I do is stitched with its color." – W.S. Merwin
"What we once enjoyed and deeply loved, we can never lose, for all that we love deeply becomes a part of us." – Helen Keller
"Grief is the price we pay for love." – Queen Elizabeth II
"Death leaves a heartache no one can heal; love leaves a memory no one can steal." – Irish proverb
"It's hard to forget someone who gave you so much to remember."
"The life of the dead is placed in the memory of the living." – Marcus Tullius Cicero
"Although it's difficult today to see beyond the sorrow, may looking back in memory help comfort you tomorrow."
"Those we have held in our arms for a short while, we hold in our hearts forever."
"The memory of you will always be in our hearts, for nothing loved is ever lost."
Words of Comfort on the Anniversary of Death
Finding the right words to say during the anniversary of a loved one's passing can be challenging. Here are some comforting quotes to help you express your feelings:
"May you find comfort in knowing that your loved one's spirit lives on through the memories you cherish."
"In the garden of memory, in the palace of dreams, that is where you and I shall meet." – Alice Through the Looking Glass
"You will lose someone you can't live without, and your heart will be badly broken, and the bad news is that you never completely get over the loss of your beloved. But this is also the good news. They live forever in your broken heart that doesn't seal back up. And you come through. It's like having a broken leg that never heals perfectly—that still hurts when the weather gets cold, but you learn to dance with the limp." – Anne Lamott
"We never truly lose the ones we love, for we carry their memory with us always."
"May the cherished memories of your loved one bring you comfort on this anniversary."
"Grief is love's unwillingness to let go." – Earl A. Grollman
"Although time has passed, the love we have for you will never fade."
"Even when you're not here, your presence is felt in every loving memory of you."
"Your memory is a treasure that I hold dear, and I'll carry it with me always."
"Though you are gone, you will never be forgotten. Your love lives on in our hearts."
Remembrance Messages Death Anniversary
As we remember our loved ones on the anniversary of their passing, it's essential to honor their memory and celebrate the life they lived. Here are some touching remembrance messages:
"A thousand words won't bring you back; I know because I've tried. Neither will a thousand tears; I know because I've cried."
"Your life was a blessing, your memory a treasure. You are loved beyond words and missed beyond measure."
"Remembering you on this day, and every day, with love and gratitude for the time we shared."
"In loving memory of a life so beautifully lived and a heart so deeply loved."
"As long as hearts remember, as long as hearts still care, we never part with those we love – they're with us everywhere."
"We hold you close within our hearts, and there you shall remain, to walk with us throughout our lives, until we meet again."
"A life well-lived is a precious gift, of hope and strength and grace, from someone who has made our world a brighter, better place."
"Your presence we miss, your memories we treasure; loving you always, forgetting you never."
"May the winds of heaven blow softly and whisper in your ear, how much we love and miss you and wish that you were here."
"In our hearts, your memory lingers, sweetly tender, fond, and true. There is not a day, dear loved one, that we do not think of you."
Death Anniversary Message for Friend
Losing a friend is never easy, and commemorating their death anniversary can bring up a mix of emotions. Here are some heartfelt messages to honor the memory of a dear friend:
"You were a light in our lives, and though you're gone, your memory shines brightly in our hearts."
"We were more than friends; we were family. I miss you every day, and I cherish the memories we made together."
"Your laughter, your kindness, and your friendship will be remembered always."
"Remembering a friend who touched our lives with love, laughter, and countless memories."
"Your friendship was a gift I will always treasure. I miss you, my dear friend."
"It's hard to believe it's been another year without you, my friend. Your memory lives on in our hearts."
"Though we cannot see you or hear your voice, your spirit and love remain with us forever."
"You were the kind of friend everyone hopes for, and we will carry your memory in our hearts forever."
"The world may change from year to year, but the love and memory of you, my dear friend, shall never pass away."
"Your friendship left a lasting impression on our hearts, and we miss you more than words can say."
Death Anniversary Message for Father
Honoring the memory of a father on their death anniversary can bring both sorrow and gratitude. Here are some heartfelt messages to remember your father:
"Dad, you are gone but not forgotten. Your love, guidance, and wisdom live on in our hearts."
"In memory of a father who meant the world to us, we cherish the time we had together and the love you gave us."
"Dad, your memory is our keepsake, with which we'll never part. God has you in his keeping; we have you in our hearts."
"Remembering our father, whose love, strength, and guidance continue to inspire us every day."
"Your love, Dad, is the foundation upon which our lives are built, and we carry your memory with us always."
"Dad, we may be apart, but your love and guidance remain etched in our hearts forever."
"As we remember you on this day, Dad, we are grateful for the life lessons and love you shared with us."
"Though you are no longer with us, your spirit and love live on in our hearts and memories, Dad."
"Dad, your life was a blessing to us, and your memory a treasure. We miss you more than words can say."
"In our hearts, you will always be our hero, our strength, and our inspiration, Dad. We love and miss you dearly."
Death Anniversary Message for Mother
The loss of a mother leaves a lasting impact on our lives. These messages honor and remember a beloved mother on her death anniversary:
"Mom, your love, strength, and wisdom continue to guide us, and your memory will live on in our hearts forever."
"In memory of a loving mother, whose grace and kindness have left a lasting impact on our lives."
"Your love, Mom, was the foundation of our family, and we carry your memory with us always."
"We remember you with love and gratitude, Mom, on this day and every day."
"You may be gone from our sight, but you are never gone from our hearts, Mom."
"Your love and wisdom still guide us, Mom, even though you are no longer with us."
"Mother, you were a beacon of love and strength in our lives, and we miss you more than words can say."
"In our hearts, you will always be our guiding star, our inspiration, and our source of strength, Mom."
"Your love, Mom, continues to light our way and guide us through life's journey."
"Mother, your memory is a treasure we hold dear, and we love and miss you always."
Death Anniversary Message for Brother
Losing a brother can leave a void in your life. Here are some messages to remember and honor your brother on his death anniversary:
"Brother, you may be gone, but you will never be forgotten. Your memory lives on in our hearts."
"In loving memory of a brother whose laughter, love, and kindness will always be remembered."
"Your love and friendship were a blessing, brother. We miss you every day."
"Though we are apart, brother, your love and guidance remain with us always."
"We carry the memory of you in our hearts, brother, and we will always cherish the time we had together."
"You were not just a brother, but a friend and confidant. We miss you dearly."
"Brother, your love and support have shaped our lives, and we are forever grateful."
"In memory of a brother whose presence brought joy and laughter to our lives."
"We remember you with love, brother, and we are grateful for the memories we shared."
"You left a void in our lives, brother, but your love and memory will live on in our hearts forever."
Death Anniversary Message for Sister
Remembering a sister on her death anniversary can be both emotional and heartwarming. Here are some messages to honor your sister's memory:
"Sister, your love and kindness continue to inspire us, and your memory will live on in our hearts forever."
"In memory of a loving sister, whose grace and kindness have left a lasting impact on our lives."
"Your love, sister, was the foundation of our family, and we carry your memory with us always."
"We remember you with love and gratitude, sister, on this day and every day."
"You may be gone from our sight, but you are never gone from our hearts, sister."
"Your love and wisdom still guide us, sister, even though you are no longer with us."
"Sister, you were a beacon of love and strength in our lives, and we miss you more than words can say."
"In our hearts, you will always be our guiding star, our inspiration, and our source of strength, sister."
"Your love, sister, continues to light our way and guide us through life's journey."
"Sister, your memory is a treasure we hold dear, and we love and miss you always."
Death Anniversary Message for Son
The loss of a son is a profound heartache. Here are some messages to honor and remember your son on his death anniversary:
"Our love for you, son, is eternal, and your memory will live on in our hearts forever."
"In loving memory of our son, whose laughter, love, and kindness will always be remembered."
"Your love and spirit were a blessing, son. We miss you every day."
"Though we are apart, son, your love and guidance remain with us always."
"We carry the memory of you in our hearts, son, and we will always cherish the time we had together."
"You were not just our son but our inspiration and our hope. We miss you dearly."
"Son, your love and support have shaped our lives, and we are forever grateful."
"In memory of our son, whose presence brought joy and laughter to our lives."
"We remember you with love, son, and we are grateful for the memories we shared."
"You left a void in our lives, son, but your love and memory will live on in our hearts forever."
Death Anniversary Message for Daughter
Remembering a daughter on her death anniversary can bring both sorrow and warmth. Here are some messages to honor your daughter's memory:
"Daughter, your love and kindness continue to inspire us, and your memory will live on in our hearts forever."
"In memory of our loving daughter, whose grace and kindness have left a lasting impact on our lives."
"Your love, daughter, was the foundation of our family, and we carry your memory with us always."
"We remember you with love and gratitude, daughter, on this day and every day."
"You may be gone from our sight, but you are never gone from our hearts, daughter."
"Your love and wisdom still guide us, daughter, even though you are no longer with us."
"Daughter, you were a beacon of love and strength in our lives, and we miss you more than words can say."
"In our hearts, you will always be our guiding star, our inspiration, and our source of strength, daughter."
"Your love, daughter, continues to light our way and guide us through life's journey."
"Daughter, your memory is a treasure we hold dear, and we love and miss you always."
1st Death Anniversary Quotes
The first death anniversary can be especially challenging. Here are five heartfelt quotes to help remember and honor a loved one:
"A year may have passed, but the love and memories we shared will live on forever in our hearts."
"One year has gone by, but your memory will never fade. We miss you and cherish the time we had together."
"We hold you close within our hearts, and there you shall remain. A year has passed, but our love for you will never wane."
"It's been a year since you left us, but your love and presence still surround us every day."
"A year has passed, but your memory lives on, a beacon of love and hope to guide us through our darkest days."
2nd Death Anniversary Quotes
As time goes by, the pain of loss may change, but the love and memories remain. Here are five heartfelt quotes for the 2nd death anniversary of a loved one:
"Two years have passed, but our love for you and the memories we shared remain as strong as ever."
"In these two years, your memory has continued to inspire and guide us, a testament to the love you shared."
"We remember you with love and gratitude on this second death anniversary, cherishing the memories and the time we had together."
"Even after two years, your love and presence continue to surround us and bring us comfort."
"Two years may have gone by, but our love for you remains strong, and your memory lives on in our hearts."
3rd Death Anniversary Quotes
As we remember a loved one on their 3rd death anniversary, these quotes can help honor and cherish their memory:
"Three years have passed, but the love and memories we shared with you will last a lifetime."
"On this third death anniversary, we remember your love, your laughter, and the way you touched our lives."
"With each passing year, our love and gratitude for the time we shared with you only grow stronger."
"Even after three years, your love and memory continue to guide us and bring us comfort."
"As we remember you on this 3rd death anniversary, we celebrate the love and joy you brought to our lives."
4th Death Anniversary Quotes
Remembering a loved one on their 4th death anniversary can bring both sorrow and warmth. Here are five heartfelt quotes to honor their memory:
"Four years have passed, but the love and memories we shared with you will live on forever in our hearts."
"On this fourth death anniversary, we remember your love, your laughter, and the way you touched our lives."
"With each passing year, our love and gratitude for the time we shared with you only grow stronger."
"Even after four years, your love and memory continue to guide us and bring us comfort."
"As we remember you on this 4th death anniversary, we celebrate the love and joy you brought to our lives."
Short Hashtags for Social Media Death Anniversary
#ForeverInOurHearts
#InLovingMemory
#GoneButNeverForgotten
#AlwaysRemembered
#LoveNeverDies