Do you know someone who has just had surgery? If you're trying to find the perfect gesture to help them feel better, you'll find plenty of inspiration in our list of get well wishes.
It's not difficult to figure out what would make someone feel better. Think about what would help you feel better after you've had surgery?
Flowers, a friendly phone call, and premade meals are all nice, but a card with get well wishes are really heart touching and something a person can look back on every time they need cheering up.
Get well wishes should be genuine, heartfelt, and sometimes even mixed in with a little humor. Giving them your best wishes and offering to help them whenever needed will help that special person know they can count on you.
Get Well Soon Messages After Surgery
1. You have always inspired me by your strength, determination, and faith. I hope you can keep on doing so! Get well soon!
2. I wish you to get well soon and enjoy your life the way you have always been doing. Stay strong and keep your heart burning bright with the flame of love and faith.
3. You are the kind of person that everyone looks up to. I pray that you continue to do that. Get well soon, dearest!
4. Life is so beautiful, and I wish that you get well soon to enjoy it to your fullest. Always praying for your speedy recovery and wishing the best for you.
5. Not losing hope is the best thing that you can do for yourself. So, keep holding on to that thread of faith and strong will. Get well soon, my dear!
6. You are so much more than what you think of yourself and your surgery is not going to stop you from doing so much more. Stay positive and get well soon.
7. You are such an amazing person and I wish that you get to do all your favorite stuff real soon. Praying that you get well soon.
8. Sometimes you might think that life is unfair and cruel, but you have to know it in your heart that everything gets better and there is time for everything to happen. Get well soon.
9. There is always right to every wrong and health at the end of every surgery. I wish that you get well soon and start your life again in the best ways possible. Sending lots of love your way.
10. Hardships and difficulties are part of life. So, please don't lose hope and fight all your demons with determination. Get well soon!
11. I pray that you get well soon and that you can again become as fit and healthy as you were before your surgery. Take great care of yourself and stay strong.
12. Don't forget to take your medicines on time and do all your exercises regularly because following a healthy lifestyle is the only way of getting well quickly. Cheers!
13. There resides a warrior in you who can defeat every illness and find success in every challenge. We know that you can beat this hard time too. Get well soon.
14. We miss you so much and we hope that we can start playing our fun games together and have crazy sleepovers once again. Get well soon!
15. You are such a gem of a person and we can't wait to see you healthy and fit soon. Please take care of yourself and follow your doctor's advice to resume your amazing life. Get well soon.
16. Please know that we miss you so much and we pray for your health and speedy recovery all the time. Get well soon.
17. Dearest, we know how tough and challenging it must be to fight hard situations, but we also know that you are very brave and can fight any and every illness. Get well soon so that we can have tons of fun together once again.
Recommended for You:
18. Facing surgery can be very hard but having faith in yourself and knowing your strength can be really helpful in making the best out of it. Get well soon!
19. You have always fought every difficulty with sheer bravery and strength, and we know that you can fight this difficult phase of life too. Ge well soon.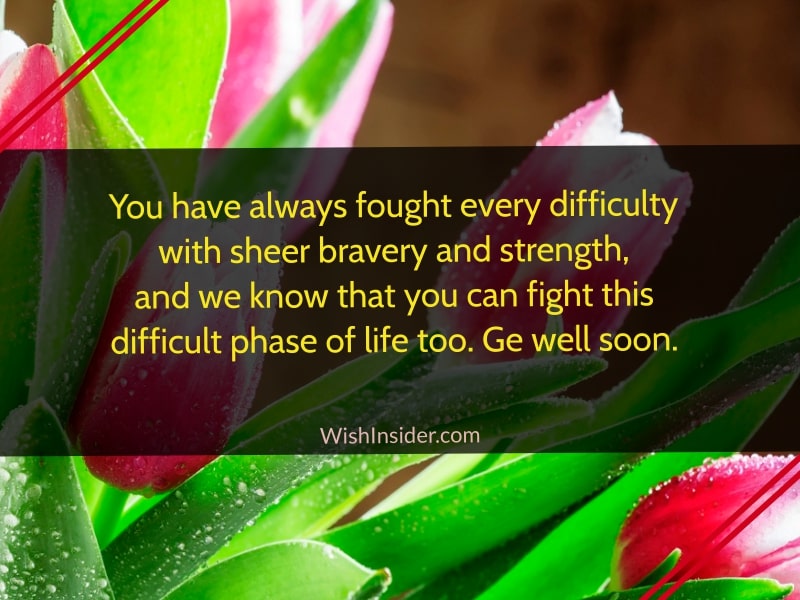 20. We cannot wait to see you running and laughing once again. All of us are praying for you to get well soon. We love you so much!