At the end of the day, the evening is good for several things: reflecting on the day you just had, looking forward to the day tomorrow, or even admiring a beautiful sunset whether you're at home or on vacation.
For those times when you want to send a sweet or inspiring message to someone, you need a good evening quote. Whether they remind someone that a bad day doesn't last forever, they need to remember there are still small moments in life full of goodness, or you just want to help them end the day on a positive note, good evening quote can encompass it all.
Pick out one of the good evening quotes from below to help make someone's evening a little brighter.
Best Good Evening Quotes
1. As the sun sets and the birds go back home, I hope you can set down the negativity and find your way to a home full of peace and happiness. Good evening!
2. Evening is a small pause in your life's movie. Enjoy it with your loved ones before the movie gets to the end. Don't forget to smile and have a great evening!
3. Good evening! I hope that you forget about the hardships of the day and look forward to the new opportunities of tomorrow.
4. Evening is the time of the day to forget your yesterday, reflect on today, and look forward to the future.
5. One of the best things you can do is look at the sunset and smile. Good evening!
6. Good evening! The evening breeze is making me miss you even more. I hope you are enjoying the sunset with the fresh cool air in peace.
7. If you have had a long, hard day, remember that I am here for you. Have a good evening!
8. What is the one thing that beautiful sunsets, night outs, candlelit dinners, and parties have in common? They all start in the evening. This evening, relax, eat, and laugh with your loved ones.
9. Every evening, the sunsets with the promise that it will rise up again tomorrow. I hope that our relationship is just as beautiful as the sunset on this beautiful evening.
10. Evening is the bridge between the harsh day and the silent night. I hope you have a great one!
11. Mornings are stressful. Afternoons are slow-paced. Evenings are full of beauty and breeze. Hope you have a good one!
12. We can forget the people we laughed with, but we can never forget the ones we shared our feelings with. Good evening!
13. Evenings are nature's way of telling you to complete your day and relax. Have a good evening!
14. It is easy to smile but hard to be happy. I hope this evening brings you the happiness you deserve.
15. As the day is coming to an end, I hope that you have a great experience. At this time, think about every good moment you have had today. Have a peaceful evening ahead!
16. I hope that the sun never sets in your life. Have a great evening, friend!
17. A good evening is so much less than what I wish for you. I hope that you have a relaxing day where you are enjoying the beautiful nature.
18. It doesn't matter how bad your day is going; the beauty of nature will make your evening serene. Always remember to smile. Have an amazing evening!
19. Evening is the time to think about how amazing tomorrow is going to be. So just pause your life and enjoy everything that life has given you so far. Happy Good Evening!
Recommended for You:
20. Good evening to the person who has been a part of my great evenings. It doesn't matter what I am doing or where I am; you are always in my mind and my prayers.
21. Here is your chance to forget the mistakes that you made today and prepare for the sweet dreams you will have tonight. Good evening!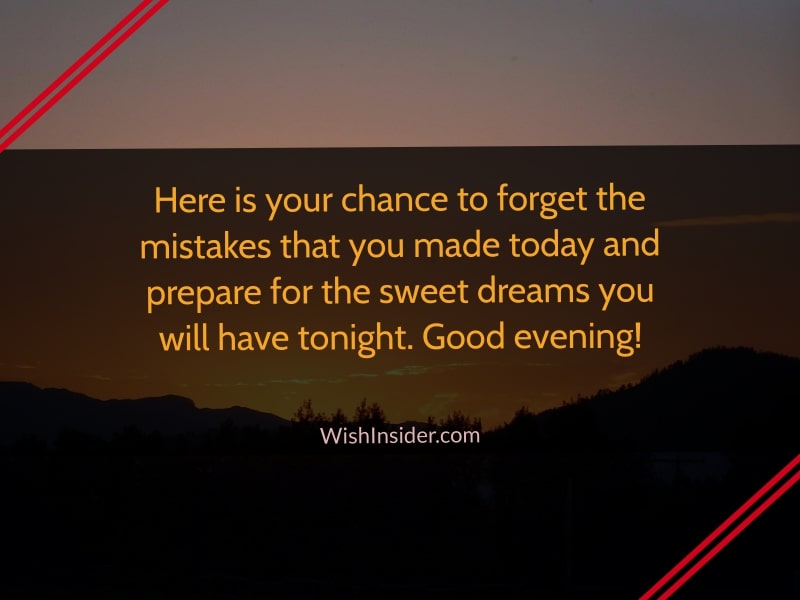 22. No matter what we desire, only joy and love can satisfy us. I hope that you have an amazing evening full of beautiful landscapes and coffee. I hope that you are having a great time. Good evening!
23. You can get happiness with a peaceful mind and a happy heart. No matter how hectic your day has been, you can't ignore the beauty of an evening. Have a good evening!
24. I pray that you have an amazing life and an evening brighter than your mornings. Have a great evening!
25. Some people love mornings. Some people love nights. But everyone loves the cool breeze of the evening. Hope you are doing it too. Good evening!